THE GREEK MYTHOLOGY PROJECT
For the Spring-Summer 2022 collection, The Omni designed a limited edition capsule wardrobe in light fabrics based on drawings inspired by the Greek Mythology. The wardrobe is composed of a blouse-dress, a blouse, a skirt, and a scarf.
In an atmosphere of fawn & terra tones the printed motifs play between literature and imagination and follow the rhythm of bodily movements much like the flow of the
ancient chiton (Greek:
χιτών
, khitōn).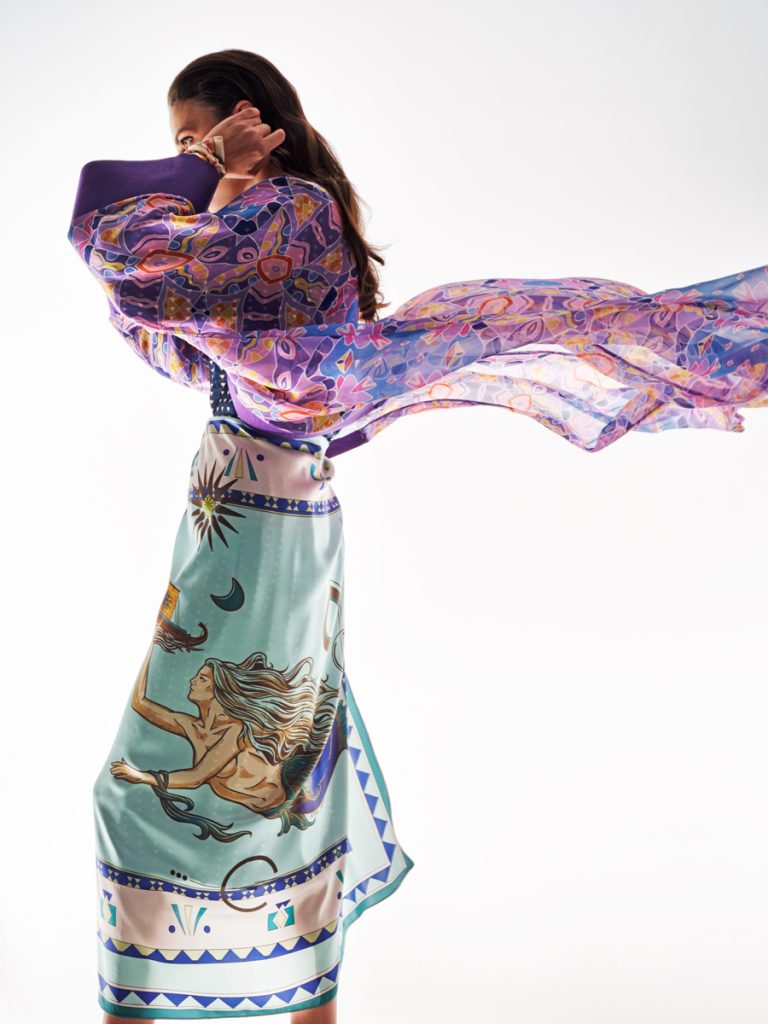 Alexander the Great, in his quest for the Fountain of Immortality, retrieved with great exertion a flask of immortal water with which he bathed his sister's hair not keeping enough for himself.
When Alexander died, his sister, in deep grief, jumped into the Aegean Sea; but instead of drowning she became a mermaid and as immortal she has been wondering the Seas ever since.
To the terrified sailors who encountered her, she would lift the ship high among the waves and always pose the same question:
"Is Alexander the king alive?" (Greek: Ζει ο βασιλιάς Αλέξανδρος;)
If the correct answer was given "He lives and reigns and conquers the world" (Greek: Ζει και βασιλεύει, και τον κόσμο κυριεύει!) she would gently calm the seas and bid the ship farewell while safely sailing away. Any other answer would transform her into a raging Gorgon, creating a sea storm from her tears.